Prevention of biofilm is critical to keeping an irrigation system performing with a high degree of effectiveness.
Prevention techniques include a combination of chemical treatments, good irrigation design, proper fertilizer selection, and periodic flushing.
Chemical treatment
One of the most common ways to prevent excess growth of biofilm is to inject sanitizing products at a low rate continuously or at frequent predetermined intervals during crop growth. The term for this practice is chemigation, and is something that people who use municipal water are (directly or indirectly) familiar with. This is because one of the most widespread examples of chemigation is the addition of chlorine or chloramine into municipal drinking water supplies to prevent harmful organisms from growing.
Sanitizing chemistries
Summary of commonly used sanitizing chemistries to prevent biofilm accumulation in irrigation systems
Chemical
Formula
Pros
Cons
Hydrogen Peroxide
H2O2
• Low cost
• Readily available
• Decomposes into water and oxygen
• Toxic at high concentrations
• Potential to react with fertilizers
• Concentrated solutions are dangerous to handle
• Low persistence in line
Hypochlorous Acid
HOCl
• Can be injected continuously
• Generated on-site or purchased as a liquid
• Prevents scale accumulation as well as biofilm
• Relatively Costly
• Most efficacious at a pH of 6-7.5
Ozone
O3
• Highly effective for biofilm remediation
• Decomposes into oxygen
• No chemical residue
• No buildup of ions
• No waste from generators
• Must be generated, no liquid input
• Reacts with Fe, Mn, NO3, and bicarbonates.
• Highly corrosive, system must have specialized equipment
• Ozone can be harmful to humans
• High capital cost and complexity
Chlorine Dioxide
ClO2
• Effective even if biofilm has built up
• Readily available
• Strong oxidizer
• Powdered, generated, or liquid form available.
• Effective in a wide pH (4-10)
• Can be toxic to plants if not monitored closely
• Hazardous to handle
• Chlorine can have adverse effects on crop health
• Concentrates 'offgas' over time, so tanks need to be replaced frequently
Peracetic Acid
CH3CO3H
• Very effective when used in conjunction with peroxide (H2O2)
• Expensive in the long run
• Strong oxidizer, interacts with fertilizers and pesticides.
Note: Always use appropriately registered products for cleaning and sanitizing. Always abide by the label directions for use for products to ensure proper application rates and methodologies.
Fertilizer program and irrigation design
Fertilizer selection and irrigation design are both critical for the prevention of biofilm. This in conjunction with a maintenance schedule will ensure that the irrigation system stays in top working condition. Not considering fertilizer selection and irrigation design puts the operation at risk of system failure.
Considering the types of fertilizer inputs can help a grower reduce the speed of biofilm development. A grower who is only using mineral nutrients will experience less biofilm accumulation, and require less maintenance than a grower who wants to use a variety of amendments containing various carbon sources such as sugars. Hawthorne makes it a point to assure that nutrient programs are based on the needs of growers as well as the irrigation system that will be implemented.. Technologies that are not matched properly will result in problematic implementation.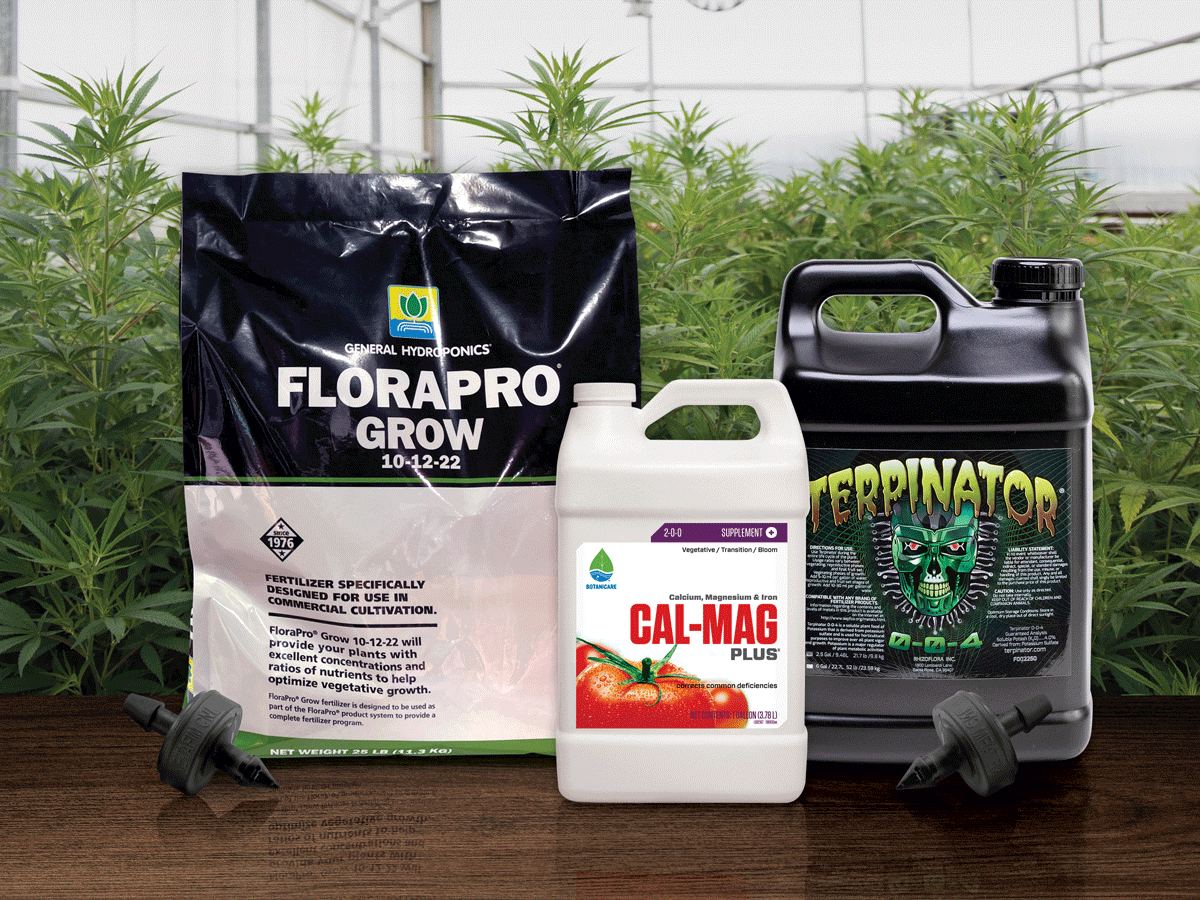 Physical removal (periodic flushing)
Another common method to reduce biofilm accumulation is with routine flushing of the irrigation system using specifically placed valves. Strategically placed flush valves are key to using this technique. When a flush valve is opened, a much higher flow rate is allowed through the system than when an irrigation event takes place. Done occasionally, this can help dislodge biofilm and eject it through the valve rather than push it through drip emitters. Flushing works well only when used in conjunction with other forms of treatment.
The most effective way to utilize flushing is by first treating the water with what is commonly known as a shock treatment' for the system (below)
Note: Never allow biofilm 'chunks' to be pushed through drip emitters. This will quickly clog the small openings of the emitters if done improperly. Always use flush valves.
Continue learning with the next part in our Biofilm series ⟶