Hawthorne supports Operation Comfort Warriors —
In August, The American Legion and Hawthorne partnered up to support our veterans at a baseball game in Tacoma, Washington.
500 veterans and their families were invited to enjoy a pre-game buffet, interact with other veterans and families at a picnic, and watch the Tacoma Rainiers play ball. The event was more than just baseball though. It was an opportunity for veterans to relax and enjoy some quality time with their families and other veterans.
Many of the veterans traveled in from neighboring VA medical centers and the Warrior Transition Battalion at Joint Base Lewis McChord where they are receiving therapy or transition assistance. The game was a chance for them to unwind and forget their day-to-day schedules.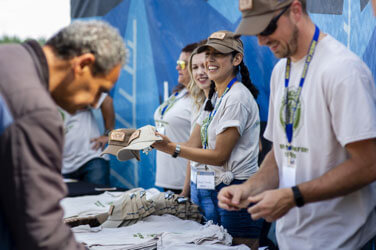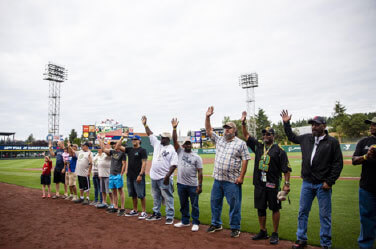 Our volunteers were at the ballpark to help with many tasks, including greeting veterans and their families as they arrived, passing out t-shirts and hats, and assisting veterans and their families to their seats. Food and drinks were served before the game by the Tacoma Rainier team. It was amazing to talk with the veterans and hear how happy they and their families were for our team to put on this event for them.
Hawthorne is supporting The American Legion's Operation Comfort Warriors program, which provides much needed and non-traditional items to aid in the mental and physical rehabilitation of our nation's wounded, injured and ill service members and veterans. Events like this baseball game help veterans reintegrate into society and heal in non-traditional ways.
It really doesn't get much better than this: baseball, summertime, and helping to bring together the people who serve and protect us. The opportunity to volunteer and give a day to those who allow us to live in this great country. It was something you had to be there to feel.
About The American Legion
The American Legion is the largest wartime veterans service organization with nearly 2 million members in 12,875 posts across the nation. Chartered by Congress in 1919, The American Legion is committed to mentoring youth and sponsoring wholesome community programs, advocating patriotism and honor, promoting a strong national security and continued devotion to service members and veterans. Learn more at legion.org.
About The Hawthorne Gardening Company
Hawthorne Gardening Co. is a house of brands that provide an incredible array of tools for a multitude of gardening needs, and yet, all share one mission: to help people live happier, healthier lives through gardening. Our company is dedicated to creating high-quality products founded in social and environmental responsibility. We create engaging consumer experiences and products with the ease and innovation to empower more people to garden — no matter where they chose to grow.